Opportunity Details
Make A Difference! State Certified Crisis Intervention Training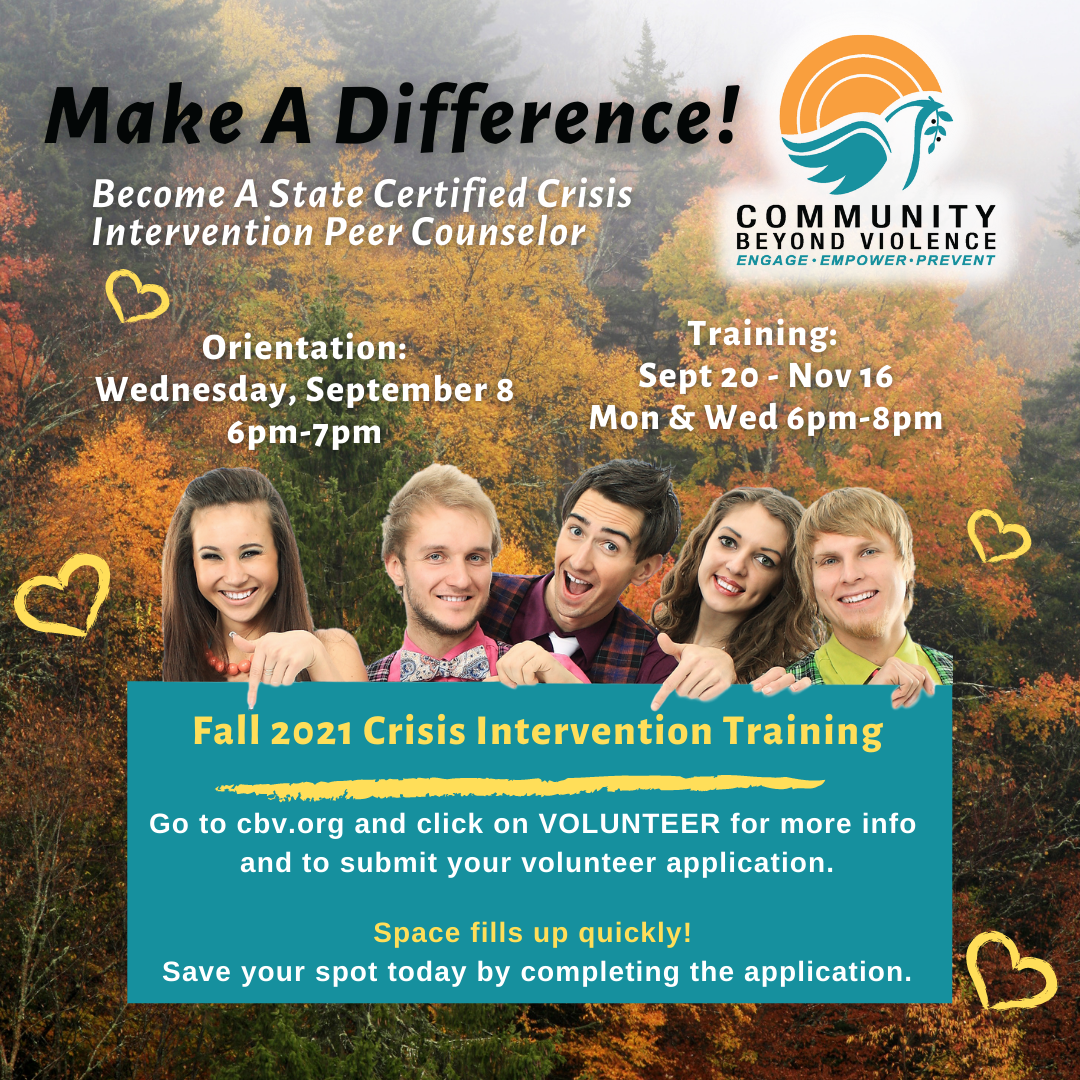 Why Take This Training
Take this training when you want to give back in one of the most profound ways: being that person who is the bridge to another's healing from interpersonal violence.
Take this training to learn valuable skills in both your professional and personal life from active listening techniques and peer counseling skills; to identifying red flags in relationships; to understanding and dismantling societal and personal biases.
Take this training because you want to change the societal and individual impact of interpersonal violence; soothe effects of trauma; AND how to advocate for survivors most compassionately and effectively.
Take this training because you seek to be connected to something greater than yourself.
Once completed, your will be certified as a peer counselor. You will be able to provide peer counseling/direct client services such as our 24 hour crisis line and in office advocacy.
Step One – Complete Our Volunteer Application
To attend the orientation and training, please complete and submit our volunteer application. Once you submit your application, you will be contacted by Michelle Bancroft, Volunteer Coordinator with additional information about the training. CLICK HERE TO COMPLETE THE APPLICATION.
Step Two – Join Us For Orientation! Wednesday, September 8, 2021, 6pm-7pm
We are holding a required orientation where we will discuss the training schedule, the syllabus and topics to be covered, attendance and to answer any questions. The cost of the training is $40 to cover materials. Scholarships are available!
Step Three – Brief Interviews
After the orientation, we will be scheduling brief, virtual interviews for each candidate prior to the training. These interviews will be with Michelle Bancroft (your primary trainer) and Maggie Garcia (your co-trainer and CIT certified volunteer). This will allow you to get to know them and get any further questions answered.
Please note: This training will be held virtually!
Orientation Date: Wednesday, September 8, 2021, 6pm-8pm
Training Dates: Mondays and Wednesdays, September 20 - November 17, 2021 - 6pm-8pm
For more information, click on the Express Interest button below.
Community Beyond Violence Office
960 McCourtney Rd., Suite E
Grass Valley, CA 95949
Website: cbv.org
Domestic Violence, Advocacy & Human Rights
Age Minimum (with Adult): 18+, Minimum Age:18+
Please wait...
Log in or Register
In order to register for this opportunity you must log in to an existing account or register to create a new account.
Signup with team
This link allows you to participate in this opportunity with a team. When you click on the link you will have the option to:
Choose an existing team you're already a member or captain of, or
Create a new team to sign up.
Signup Questions
Please respond to the following questions in order to signup for this opportunity:
Please wait...
E-mail