Opportunity Details
Teach Youth or Adult Disaster Preparedness - Red Cross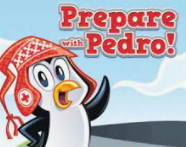 Help communities be prepared for disasters. We need volunteers to teach our preparedness courses to youth and adults. It's a great way to show the services provided by the Red Cross and engage with your community. Presentations are taught in groups. Added benefit – if you're looking for an opportunity to help with your teaching skills or presentation skills, this is a great opportunity for you!
Prepare with Pedro - Prepare with Pedro is a 30- to 45-minute preparedness education program for grades K-2 that teaches students how to BE PREPARED and TAKE ACTION for either home fires or a local hazard. The course if offered in English and in Spanish.
Pillowcase Project - The Pillowcase Project is a preparedness education program for grades 3-5 that teaches students about personal and family preparedness and safety skills, local hazards, and basic coping skills.
Community Preparedness Education Program - Teaching the community simple steps in advance to ensure they can weather a crisis safely and comfortably. These courses can include preparedness information for home fires, hands-only CPR, and disaster readiness, to name a few.
Learn more by visiting: https://rdcrss.org/3BNSkKH
Time Expectations: Two presentations a month

COVID-19 Safety
Safety first! Those with unconfirmed vaccinations must wear a mask for all in-person work. Masks must also be worn at all shelters.
Thank you for your interest in serving the American Red Cross!
Click EXPRESS INTEREST below, or apply or learn more here https://rdcrss.org/3P6rRep or email Sherilyn.Bethoney@RedCross.org with any questions.
Public Safety, Children & Youth
Mentoring/Youth Development,Tutoring
Age Minimum (with Adult): 18+, Minimum Age:18+
Please wait...
Log in or Register
In order to register for this opportunity you must log in to an existing account or register to create a new account.
Sign up with a team
This link allows you to participate in this opportunity with a team. When you click on the link you will have the option to:
Choose an existing team you're already a member or captain of, or
Create a new team to sign up.
Signup Questions
Please respond to the following questions in order to signup for this opportunity:
Please wait...
E-mail